AH50 ARCHIVE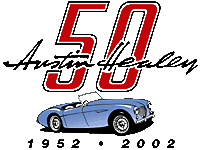 July 2002 report
A Once in a Lifetime Celebration....
...and it is very nearly upon us !
Phil Gardner, AH50 Project Director reports........
"The organisation of this jubilee celebration has been on-going for close on eighteen months and with just four weeks to go I am able to report that the team have really laid on a wonderful programme of activities spanning the week. We are now hoping upon hope that the dreadful weather of late changes and we have a wonderful warm and sunny July and early August....lets hope so...we deserve it !
"We have been able to keep you informed of progress via the RevCounter and the website, but I am pleased to report that the week-long Wokefield Park accommodation package is sold out and we only have a limited number of rooms left for the Weekend.
"We have guests coming from 18 countries worldwide and we are looking forward to meeting them all and enjoying the week together.Advanced Two Day Ticket for Thruxton £22 (Under 16s Free)
This is an advanced price only and provides drivers of Austin Healeys with track time on the Friday"Derek Mayor has organised a prestigious Concours d'Elegance event for Monday, with the winners being able to treasure their trophies ad-infinitum, none of this giving them back for the following year ! A few tickets remain for Prescott on Wednesday 31st July so it would be wise to book immediately rather than risk disappointment.
Auto Test Entrants need to sign-on for scrutineering at 9am on Friday
"I am extremely pleased to advise you that every Centre has entered a sponsored team in the Go-kart challenge on Thursday afternoon and along with the six overseas teams this promises to be an entertaining afternoon.
"Tuesday 30th July is a planned drive day. Roger Byford and David Rings have been busy planning some excellent routes visiting places of interest for all.
"Paul Woolmer has worked with great enthusiasm to put together the most wonderful collection of special cars, including the largest number of 100Ss seen together for many a year, AH3000 ex-works Rally and Race cars, Sebring Sprites, WSMs and prototypes including the famous 100 Coupés.There will be a bring and buy sales area in the Club Marquee on Friday and Saturday at Thruxton for those of you with bits to dispose of ! A small percentage charge will be taken by the Club
"While Gerry Coker and Margot Healey will be with us all week, Thruxton on Friday 2nd August will be the great opportunity to meet and chat to many of the star drivers, Healey family members and ex-BMC personnel who will be attending this fantastic day of entertainment. Come and meet Paddy Hopkirk, Don Morley, Jack Sears, Bic Healey, Roy Jackson-Moore, Andrew Hedges and many more.For those of you wishing to sell a car there is the opportunity to show your car in a special sales area in-field at Thruxton Contact 01202 814277 to arrange. Fee £15 (two days)
"The track is open on the Friday to pre-booked ticket holders to take their Austin Healey around the wonderful Thruxton Circuit. Circuit briefings from the Thruxton racing school begin at 9.30am"The signs are that the Saturday race day will provide you all with spectacular entertainment as we are expecting full grids of cars for every race. The Dave Hardy Memorial 50th Anniversary HDI race is the last of the 2002 series and promises to be a tough fought battle."We have race cars entered from all over the world and expect to see one or two 100S's in the Dual driver race. I know that the Astons, TR's and the Moss Thoroughbred entrants are looking forward eagerly to the day.Don't Forget....... You can come along to any of the day's events with the ticket options that are available. "For those of you who have pre-booked for the event, you will receive a pack of information and tickets during the first week of July.Camping at Thruxton on Thursday and Friday nights are free subject to purchasing an advanced two day ticket For those of you who have not yet committed yourself, then you need to move promptly !
"I look forward to seeing you at the event.
THRUXTON CIRCUIT
Thruxton Circuit, home of the British Automobile Racing Club and fastest racetrack in Britain, is preparing for the arrival of over 500 Austin Healeys, and the largest display of Historic cars of the marque ever assembled. For those of you coming to Thruxton on Friday 2nd August, the in-field paddock area will become an Austin Healey Car park. It promises to be a rare treat indeed. Cars will be ushered, twenty-five at a time, onto the track via the Assembly Area, and return after fifteen minutes to Parc Fermé. The Trade and Display Marquees are located in-field opposite Allard. Gates open at 8am.
June 2002 report
Celebrating Half a Century of the Austin Healey
Austin Healey 50th Concours d'Elegance
Arrangements are well in hand for the Austin Healey 50th Concours d'Elegance, and the competition being held on Monday the 29th July 2002 at Wokefield Park promises to be an event not to be missed, with over 50 cars entered to date.
Nine Classes covering the various models have been identified, and awards for 1st, 2nd and 3rd places in each Class will be given.
All Entrants will receive a signed Certificate for competing in the event, with the Best Concours Car receiving a special award and trophy "Best Car of Austin Healey 50th Concours". In addition, the Donald Healey Shield will be retained for one year, and then returned to the UK Austin Healey Club.
A team of specialist judges, from both the UK and Overseas, has been invited to judge the event according to the special rules that have been issued for the event. Judging will commence at 09.30 hours on Monday the 29th July, and prize giving will take place at 16.30 hours on the same day. Winners will be invited to display their cars at Thruxton on Friday and Saturday within a dedicated enclosure. Entry to the Concours is free but Entrants must complete the booking form and return it to Jim Palmer. Members of the UK Austin Healey Club are reminded that, because the above Concours is being held in the UK, the UK National Concours will not be held in 2002, but members are very welcome to participate in the Austin Healey 50th Concours. A copy of the Rules and the Judging Form will be available here. Alternatively participants can obtain a copy by writing to Derek Mayor at derek.mayor@volvo.com. Wanted: Six "Nasty Boys"Pete Farmer is looking for 6 very nice Nasty Boy Healeys to put on show at the coming event. Three spaces have already been taken up by V8 engined cars, but we still have room for three more very interesting types - highly modified examples preferred. UK or overseas cars are welcome. If you are interested please contact Pete Farmer on email petefarmer@nasty-boyzl6.co.uk with all details, as soon as possiblePrivate Car SalesSpecial arrangements have been made so that members wishing to offer cars for sale can obtain a 'pitch' at Thruxton for just £15. The CARS FOR SALE display will take a prominent site close to the 'Trade Village'. Contact Phil Gardner on 01202 814277.AH50 Prescott Hillclimb
WED 31 JULY 2002
As part of the week-long events to celebrate 50 years of the Austin Healey, the club visits the famous Prescott Hillclimb (a few miles north east of Cheltenham) on Wednesday 31st July 2002. We expect over 250 cars will assemble to drive the twisting 1127-yard hillclimb course. Cars will be 'despatched' at 30-second intervals, but the runs will not be timed. There will be no competition - no prizes, no crash hats, and you may carry a passenger. You simply climb the hill and enjoy yourself in your own time. You accelerate fast from the start line, keeping the power on around the long left hand Orchard Corner. Then brake hard for the tight right hand hairpin - Ettore's Bend. A quick blast takes you up to the infamous steep left-handed Pardon Hairpin. Then a 100 yards on the flat - right hand bend leading into the Esses - 100 degree sharp left bend - then a long climb and into the right hand semi circle. Another quick 100 yards blast to cross the finishing line - hard on the brakes and swing left into the return road to the Paddock. Sheer enjoyment for around 65 seconds, and you will be able to have a second run later in the day.
Gates open at 10am and the hill climbs will start at 10.30am. All cars will be allocated numbers, and, to avoid long queues, the day will be 'controlled' by car numbers and time - e.g. Cars numbered 301 - 350 must line up at the start gate between 11.15 and 11.45am and again (for the 2nd run) between 2.30 and 3.00pm. Lunch must be taken between 12.30 and 1pm.
Full instructions and timings will be contained in the special programme, which will be despatched to Day Ticket entrants in mid July. This will be available at Wokefield Park for issue to Warwick Ticket holders on arrival.
If you do not have a roadworthy Healey, but are a member of the Club and also have a true classic sportscar (preferably a British roadster pre 1977) such as an MGA, TR4 etc. you can apply to enter. The organisers will decide if you 'qualify'. If in doubt then telephone David Morgan after June 10th.
All cars must be fully roadworthy and driven to Prescott. Drivers will be required to sign an Insurance Indemnity.
SOSTo make the day a success, we are looking for marshals! Please give an hour or two in helping to control the traffic at the entrances and the parking in the paddock. Your reward will be an extra run at the hill!!!

May 2002 report
Celebrating Half a Century of the Austin Healey
A Two Day "Austin Healey Festival" at Thruxton on Friday 2nd and Saturday 3rd August !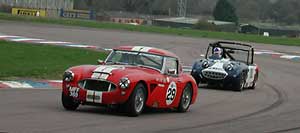 The climax of the week long 50th Anniversary celebrations will be a wonderful festival of activities to be held at the Thruxton circuit, near Andover, Hampshire, created for Austin Healey Club members and enthusiasts of the marque.
The Friday programme offers rich entertainment for all, from early morning to late afternoon. The hub of activities is the tented village housing the largest display of historic Austin Healeys ever assembled in the UK. We have been fortunate enough through the generosity of the owners of these fabulous cars, to assemble over forty of the rarest and most important Austin Healeys ever built. This display is unlikely to ever been seen again....so make sure you don't miss it !
Many of the celebrities and personalities who are synonymous with these cars will also be with us for the celebration. Gerry Coker, body designer of the splendid Austin Healey 100 is travelling from the States, Don Morley who drove XJB 876 to a winning success in the 1961 Alpine Rally, Paddy Hopkirk, Jack Sears, Andrew Hedges and Alec Poole to mention just a few. We plan to re-unite them with their cars and provide visitors with the opportunity to chat and take photographs.
Visit the trade village to view the products, obtain some valuable information, look at the quality of the restoration projects on view, or simply purchase a few parts. As well as the specialist parts and restoration traders, we have stalls selling books, art and models. The Club will have on hand membership and register information and offer the chance to buy 50th and club regalia. The Club has also organised a display of interesting memorabilia.
The Friday offers Austin Healey owners who have pre-booked, the opportunity to participate in the 50th Anniversary Auto-test competition, and to take to the fast Thruxton circuit for fifteen minutes of track time. We are expecting to manage 500 Austin Healeys around the track from 10am to 3.30pm.
But above all, the day offers a unique opportunity for Club members and friends to get together in a social gathering, picnic out on the grass or relax in one of the coffee and catering facilities. For the younger enthusiasts there is a play area and a "Healey" orientated face painter ! Thinking about it...this may well attract some of our older enthusiasts too....get in the queue behind me !
On the Saturday we have another full days entertainment for you. The car displays and the trade stalls will still be there, with the additional attraction of being able to view the competitors in the AutoGlym National Concours D'elegance and a few more cars displays arranged for us by other Classic Car Clubs.
A seven race programme comprising of Austin Healey and other British Sports Car marques will be competing from 12.30pm. The race programme is attracting huge interest and large grids. Check out the following..........
The 50th Anniversary Donald Healey Memorial race for Austin Healey Sprites
The Dave Hardy Memorial 50th Anniversary HDI championship race for big Healeys
A round of the Austin Healey Club championship
A round of the Aston Martin Club championship
A round of the Triumph TR Register championship
>A round of the Moss Thoroughbred inter-marque championship
A invitation two driver endurance race for sports cars
The organising team are still working on the final details of the programme for these two fantastic days at Thruxton. I suspect that more exciting attractions will be seen on the days in question. Please note that camping at Thruxton is available free of charge to those who have pre-booked tickets via the Austin Healey Club.
I look forward to seeing you at the event.
Phil Gardner
AH50 Project Director
Tickets purchased in advance from the Austin Healey Club offer reduced prices and other benefits including track time on the Friday. Children under 16 free.
April 2002 report
Celebrating Half a Century of the Austin Healey
Our Trade friends are signing up for Thruxton stalls!Those of you that regularly attend the Clubs' annual Healey Day will already know how enthusiastically the Healey traders support these events.
Well, 2002 will be no different and, since trade booking forms were posted, 50% of all available space has been snapped up, so there is no doubt that this year will see more Healey specialists under one roof than have been seen for many a year.
Whilst we celebrate 50 years since the start of the Austin Healey production, consider for a minute how vital this 'hobby' industry has become since production ceased back in December 1967.
For a while there were surplus stocks of factory parts and a dealer network to distribute them. The important point here is what happened when these ran out, and Austin Healeys became out of date, cheap, second hand cars.
Factory 'old stock' parts still surface from time to time, but not in commercial quantities, and, frustratingly, never quite the things that are really needed by you the consumer.
These factors have placed quite a responsibility on parts suppliers and restorers alike; like a pub with no beer, there is low tolerance for stockists without stock, and restorers without time served experience.
Over the years, investment in tooling and skills has paid dividends. Today there are very few barriers in the way of any enthusiast keen to restore an Austin Healey, whether the preference be concours champion, podium-placed racer, or simply the daily commute to work and back!
All aspects of the trade network will be represented at Thruxton: parts stockists; restoration and race preparation specialists; suppliers of every part and service you will ever need - interior trim, overdrives, classic insurance and even (heaven forbid) recovery!
I know many of you will have fully restored specimens needing very little to keep your beauty in fine fettle, but you'll be amazed by the many innovative new ideas on display backed up by knowledgeable experts ready to advise on any aspect of Healey ownership.
When you arrive at Thruxton, the trade marquee can be found in-field over to the left end of the paddock as you emerge from the entrance tunnel.
Open from early Friday morning to late Saturday afternoon, many companies will be offering 'show specials' and a 'collect at the show' service for orders placed in advance, we are looking forward to meeting up with customers old and new - so see you there.
On behalf of our Trade colleagues and Companies.
March 2002 report
Celebrating Half a Century of the Austin Healey
Celebrities accept an invitation to join in the 50th celebrations!It is with great pleasure and excitement that I am now able to advise you that Gerry Coker, the body stylist and designer of the fabulous Austin Healey 100 will be flying in from Florida, with his wife Marion, to be with us for the week long celebration. Gerry will no doubt be only too happy to share a memory or two and sign a few autographs. Gerry will be joining Margot Healey> and Bic Healey and his wife Mary, staying at Wokefield Park.
With this being the 50th Anniversary, many of the Donald Healey Motor Company and BMC ex-works drivers and engineers are keen to be with us on the Friday at Thruxton to join in the celebrations.
Don Morley will be re-united with his 1961 Alpine Rally winning car XJB 876 now owned by Mick Darcey. Jack Sears ex-race and rally 3000 driver will be attending and is looking forward to meeting many of his colleagues from the heady days of the early sixties. Roy Jackson-Moore who with Donald tested and set records in the 100 in the States will be bringing along his 100M. Paddy Hopkirk> has confirmed that he will be with us. Paddy drove 3000's for BMC before switching to Minis. Alec Poole and John Harris have also confirmed that they will be joining us.
The list of celebrities will keep growing. Have you booked your tickets yet?
Phil Gardner - Project Director AH50
Tickets for the two "Celebration days" at Thruxton

Be sure to book your tickets in advance for Friday 2nd and Saturday 3rd August.

Tickets purchased in advance offer significant benefits in price and value. For a start, on the Friday, you will get 15 minutes of track time driving your own Austin Healey around the fabulous Thruxton circuit. For children up to the age of 14, entrance is free of charge.

February 2002 report
Celebrating Half a Century of the Austin Healey

Incredible 'Special Car' Response

Firstly, what is a 'Special Car'? Of course, all of our Healeys are special. For the purposes of AH-50, Special Cars are defined as any of the following: Ex-Works, competition, or prototype cars, cars of historic interest, & rare or unusual variants. Already we have cars covering each of these categories promised for the weekend.

Our display will take place on Friday & Saturday at Thruxton. Our target for AH-50 is to have the largest gathering of these cars ever brought together, anywhere in the world. We already have over 20 cars confirmed, and it's only February, comprising 100-Ss, 100/6 & 3000 race and rally cars, factory prototypes and coupes; Sprites of just about every variant, Sebring, Le-Mans, Targa Florio and WSM.

A number of the special cars will also be competing in Saturday's race programme. So watch out for them. Several of the cars already promised have not been seen of many years, and in two cases for over 30 years; more details to follow. Watch this space for details & photos of some of the cars you will see in the flesh at Thruxton.

This month we feature the WSM Sprite, built by Douglas Wilson-Spratt at Delta Garages between 1962 and 1965. Around eight Sprite base cars were built, mostly with aluminium bodies. They competed in many national and international events.

So far we have two WSMs confirmed; there are only three known in the UK, and the third will also be there if it is ready in time! They will also be racing on the Saturday.If you either own or know of a car which you think fits the above criteria please contact Paul Woolmer at sebring@btinternet.com.

Paul Woolmer
Special Car Co-ordinator

January 2002 report
Celebrating Half a Century of the Austin Healey