RevCounter
RevCounter is the Austin Healey Club's monthly magazine that comes FREE with membership.
Packed with news of forthcoming events, reports on what's been happening in the Austin Healey world, marque history, technical tips and classifieds, it is indispensable for all keen Austin Healey enthusiasts in the UK, and a great read for Austin-Healey-philes worldwide.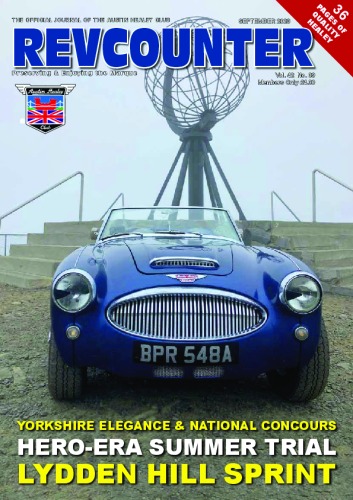 In the September 2023 issue...
Chair report / Editor
Mutterings from the East
Yorkshire Elegance and the Austin Healey Club National Concours 2023
FBHVC Report
Marque Registers; Is It Worth Recording Your Car details?
Thames Valley Visit to Stratfield Saye House
AGM Notices
If You Want to Get Your Articles & Photos published In Revcounter?
Tech Talk
HERO-ERA - The Summer Trial
100-6 & 3000 Register News
A Morris Healey and perhaps a Wolseley GT
Healey Sport - Lydden Hill Sprint - Round 8
Events Calendar / Market place
COVER PICTURE
:
The September 2023 cover picture: EHM2023: The Land of the Nidnight Sun - Nordkapp, Norway. Photo by Paul Lovett